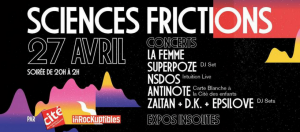 Science Frictions
Experiences – Performances – Music
Thursday April 27 at La Cité des Sciences et de l'Industrie
Psychedelic performances, illuminated videos, cosmic DJ sets, scientific experiments from elsewhere. Science Frictions is not a night like any other, it is a futuristic, sensory, playful and human unique festival, where music and science are found.
For this new evening organized by La Cité des Sciences et de l'Industrie and Les Inrockuptibles, it is about knowledge and pleasure, science and poetry, technology and humanity.
Rather than inviting artists and spectators to find around a simple concert, our goal is to provoke an encounter, a rare and intense moment of complicity. The magic of places has already given wings to the artists, who seek the formula of the Just to adapt to the Forum Planetarium, from the Auditorium to the City of the children.
Difficult will be the return to Earth!